Coming Out Week 2013
September 23, 2013 @ 8:00 am

-

5:00 pm
Event Navigation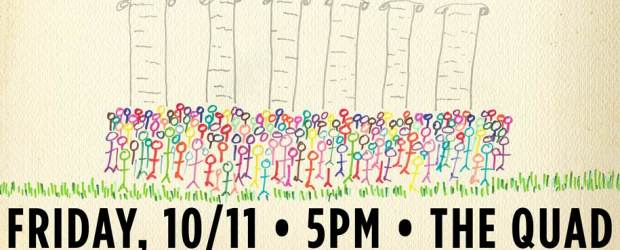 It's Coming Out Week again! 10/7 – 14. Check out all the amazing events!
If you'd like a paper copy of our calendar, please request one by emailing lgbtq@missouri.edu, or by stopping by our lounge to pick one up.
Open Forum: Coming Out While A Racial Minority
Monday, October 7 7 pm MU LGBTQ Resource Center
Join QPOC – Queer People of Color – as we host an open forum about what it's like to be LGBTQ and a racial minority while on the MU campus and in our worlds. All are welcome at this interactive discussion.

Sponsored by MU LGBTQ Resource Center, and QPOC.
LatinoNGayUSA
2013 Coming Out Week Keynote Tio Louie
Tuesday, October 8 6 pm 22 Tate Hall
In honor of Coming Out Week and Hispanic Heritage Month, we are bringing Louis E. Perego Monendo, aka Tio Louie, a US-born, bilingual Latino (Cuban-Argentine), gay, feminist, filmmaker to talk to us about his life—religious upbringing, height of 1970s gay disco-era in NYC, living through the AIDS crisis—and his activism—LGBTQ and Latino representation in the media, LGBT sensitivity training, and policy change advocacy, among so much more. All are welcome and invited.
Sponsored by Triangle Coalition, MU LGBTQ Resource Center, HALO (Hispanic American Leadership Organization), LGPN (Latino/a Graduate & Professional Network), and Department of Women's & Gender Studies.
Out of the Closet, Into the Streets!
Wednesday, October 9 11 am – 2 pm Lowry Mall
Join us on Lowry Mall for all sorts of fun! Bean bag toss, washers and ladder golf tournaments! Calendars and info and resources! Even a door for you to COME OUT through! Come out as an ally, as gay, lesbian, queer, trans… as you!
Sponsored by MU LGBTQ Resource Center.
Coming Out On The Radio: InsideOUT Listening Party
Wednesday, October 9 3 – 4 pm MU LGBTQ Resource Center lounge, G225 MU Student Center
Coming out as LGBTQ or Ally is a process that can be fun, hard, scary, stressful, funny, sad, freeing, exciting, and more. Join us to listen to this week's InsideOUT – MU LGBTQ's weekly radio show on KCOU 88.1 FM – all about Coming Out.
Sponsored by MU LGBTQ Resource Center and KCOU, an MSA/GPC Auxiliary.
L.I.S.A. (LGBTQ in STEM Association)
Thursday, October 10 5 – 6 pm MU LGBTQ Resource Center, G225 MU Student Center
Join our campus' newest LGBTQ-focused org for this talk on micro-aggressions within the STEM (Science, Technology, Engineering & Math) field and our society at large. All are welcome!
Sponsored by L.I.S.A.
Coming Out While Greek
Thursday, October 10 6 pm MU LGBTQ Resource Center, G225 MU Student Center
Brotherhood. Sisterhood. Coming Out. Join Greek Allies for this interactive discussion and open forum on being LGBTQ and an ally within the Greek system here on campus.
Sponsored by Greek Allies, MU LGBTQ Resource Center, Greek Life, NPHC, IFC, and PHA.
MAKERS: Women Who Make America
Thursday, October 10 7 – 8 pm Jesse Wrench Auditorium, Memorial Union South
MAKERS tells the remarkable story of sweeping social revolution in American history through archival footage and funny and inspiring interviews. Movie snacks provided!
Sponsored by MU Women's Center.
Pride Photo
Friday, October 11 5 pm The Quad
Show your support! Show your pride! Come to the Mizzou Pride Photo.
For the 18th year in a row, LGBTQ and Ally Tigers line up to show we are ONE Mizzou. Hundreds of students, staff, faculty, alumni, plus Truman line up and stand proudly in support of all Tigers. The picture will be published in the Maneater.  Represent, Come Out, and Support.
Sponsored by MU LGBTQ Resource Center and One Mizzou.
Green Dot Conference
Saturday, October 12 9 am – 3 pm Register: rsvp.missouri.edu/green-dot
Part of Green Dot Mizzou, this fall prevention conference is an important way to learn how to do proactive and reactive Green Dots! Let's stop red dots (instances of violence) from outnumbering Green Dots. Lunch provided, registration required.
Sponsored by MU RSVP (Relationship & Sexual Violence Prevention) Center.
Black & Gold Drag Show
Monday, October 14 7 pm Stotler Lounge, N101 Memorial Union
It's that time again! Don't miss this semester's drag show. Queens, Kings, all variety of gender performance, cheering, tipping, glitter, dancing, sequins, and celebration. Come one, come all, bring your friends, and celebrate being you!
Sponsored by Triangle Coalition.