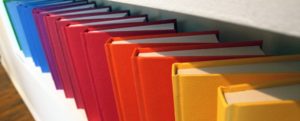 The LGBTQ Resource Center contains an expansive check-out library. We have diverse sections from Biography and Fiction to Coming Out and Sexuality.
Anyone can come in, create an account, and check out up to 3 books at a time; books can be checked out for a period of two weeks.
Find all of the books available for loan at our LibraryThing account! 
Our space also has subscriptions to Out, The Advocate, OP, and Camp Kansas City. We also have a large archive of magazines including Out, The Advocate, OP, Curve, Hero, Girlfriends, and Alternative Family Magazine. Magazines are not available for check-out, but anyone is welcome to come in during open hours and look through any and all of them. These magazines are a great resource for various historical resource projects!
If you are Mizzou faculty or staff, we also have educational DVDs available to check out for screening. Please email lgbtq@missouri.edu for more information on checking out DVDs. Students and the community are welcome to come into the space and watch our DVDs in the lounge. Some of our titles include:  Trans, Toilet Training,Before Stonewall, After Stonewall, and Venus Boyz, among other titles.
If you have a book suggestion for us, please email lgbtq@missouri.edu.