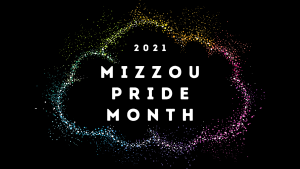 At Mizzou, April is celebrated as LGBTQ Pride month! Events, fun, history, education and community are just some of the things you'll find each April.
Pride Month 2021 Calendar of Events
8th Annual Show Me Pride College Summit
April 5-30
The Show Me Pride College Summit is a month-long virtual conference for LGBTQ+ college students all across Missouri to connect with each other, share knowledge and build new skills! You won't want to miss this!
Free registration online: www.bit.ly/show-me-pride-2021
Disclosure Film Discussion
April 12 | 1-2:30 p.m.
Disclosure (streaming on Netflix) traces transgender depictions in film and television.
Director Sam Feder has viewers confront unexamined assumptions as the documentary explores trans representation on screen, society's beliefs and the reality of trans lives. Join us for a panel discussion regarding this important documentary!
Register here: https://umsystem.zoom.us/meeting/register/tJwucuGvpjkpGdY-gZBd0kzZUZEwvmlqz_ao
Sponsored by: Mizzou Ed Bridge and LGBTQ Resource Center
Breaking the Silence Conference
April 13 | 8 a.m. – 4 p.m.
Breaking the Silence is a daylong virtual conference that will provide facilitation, education, professional development and support for all of its attendees. The mission is to further your education on sexual assault awareness and challenge you to be a better supporter and ally.
Registration: https://missouri.campuslabs.com/engage/event/6962748
Sponsored by: Relationship & Sexual Violence Prevention (RSVP) Center
Career Center Pride LinkedIn Photo Day
April 20 | 1 – 3 p.m.
Lower level of the Student Success Center
Join the MU Career Center for a chance to spruce up your LinkedIn with a new headshot! Come dressed however makes you feel professional and confident.
Sponsored by: MU Career Center
Sexversations
April 21 | 6 – 7 p.m.
Do you have questions about sex and/or relationships? Join us as we talk about sex, relationships, pleasure, and sexuality in an open and honest discussion. Come have some fun, and expand your knowledge about how great sex happens!
Sponsored by: MU Wellness Resource Center and Well-Being Peers
How to Be a Better Trans Ally: Healthcare Edition
April 22 | 4 p.m.
HBABTA is an annual event sponsored by Oasis, and this year will focus on how to support transgender, non-binary, and gender non-conforming people in the medical and healthcare fields. This panel discussion will feature students, medical professionals, and other members of the community sharing their perspectives on trans-affirming healthcare.
Register here: https://linktr.ee/MUOasis
Sponsored by: Oasis and MU Health Pride Alliance
Healthy Relationships Week
April 26-30 | 10:30-11:30 a.m.
Sponsored by: Relationship & Sexual Violence Prevention (RSVP) Center
Gayme Night
April 26 | 3-7 p.m.
The Residence Hall Association's Advocacy Committee and LGBTQ Resource Center will be hosting a Gayme Night at the Truman Central Quad (Outside Galena and Dogwood Hall). Look for a chance to play games and win prizes every hour. Attendance is limited to 40 people, so make sure to get there early and bring your friends! List of games to play: Bocce Ball, Croquet, Connect 4, Washers, Cornhole, and Jenga! Students are expected to play socially distanced and will be required to wear a mask at all times. Hope to see you there!
Co-sponsored by RHA Advocacy Committee and LGBTQ Resource Center
Book Discussion: My Heart Underwater by Laurel Fantauzzo
April 27 | 11:30 a.m.-12:30 p.m.
This 2020 debut novel centers on a Filipino American teen Corazon Tagubio. Attending an all-girls Catholic high school and becoming aware of her own attraction is only one layer of this coming-of-age story. Author Laurel Fantauzzo takes readers on a journey across the world as Cory comes to understand her family, her relationships, and ultimately, herself. Laurel Fantauzzo will be joining us in a discussion via Zoom from the University of Hawaii-Manoa where she is professor of English.
Sponsored by: Mizzou Ed Bridge and the LGBTQ Resource Center
Virtual Coffeehouse Discussion: The Body Collective
April 28 | 3:30 p.m.
Tune in to listen to the editor of the LGBTQ Resource Center's literary and art magazine, The Body Collective!
QFLAUNT: LGBTQ+ Talent Show
April 29 | 6 p.m.
Come support LGBTQ+ students, faculty and staff as they flaunt their talents in this virtual talent show!
Sponsored by: Oasis and the LGBTQ Resource Center
Show Me Pride Summit Keynote Speaker: Jeff Perkins
Carve the Space: Building Your Community on Campus and Beyond
April 30 | 5 p.m.
Jeff Perkins (he/him/his) is an educator, writer, artist and social justice advocate from Kansas City, Missouri. Jeff is passionate about empowering marginalized communities through higher education and the creative arts. He is interested in work that deals with educational equity and college access, specifically looking through an intersectional lens of race, ethnicity, class and LGBTQ identities. He received both his BA in English-Creative Writing and MEd in Educational Leadership and Policy Analysis from the University of Missouri-Columbia.
Sponsored by: Show Me Pride College Summit
Lavender Graduation
May 5 | 6 p.m.
Join the LGBTQ Resource Center in celebrating the graduation of LGBTQ graduates!
Graduating students are encouraged to sign up here: https://bit.ly/MULavGrad2021
Sponsored by: LGBTQ Resource Center
MU Pride Month is sponsored and coordinated by the MU LGBTQ Resource Center, part of the Division of Inclusion, Diversity & Equity.
LGBTQ.Missouri.edu | 573-884-7750 | lgbtq@missouri.edu
We are committed to ensuring all of our events are accessible and inclusive. Please contact us in advance at lgbtq@missouri.edu if you anticipate any barriers to your participation.